Ultimate Medical Academy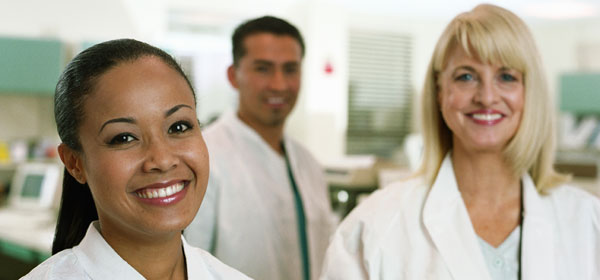 Questions? Fill out the form below to get answers.
Get Personalized Attention with
UMA
Ultimate Medical Academy is committed to helping you succeed in a healthcare career. That's why we offer assistance from the very beginning, throughout training, and even after you graduate. One-on-one tutoring, pre-interview coaching, job search assistance, alumni services-they're all included in our competitively priced tuition.
Engaging Online Learning
You'll get individual feedback from your instructors, watch educational videos, participate in discussion boards and have access to live study group sessions. Many of our students also study on-the-go with MyUMA Mobile App.
Certification Prep
Some UMA programs include certification exam preparation. We can help you get ready for testing. Earning your certification could be a way to further stand out in your career field by adding a credential to your training.
Career Services
UMA has a relationship with more than 48,000 employers across the country and we use that network to search for job opportunities and schedule interviews for our graduates. As a UMA student, you'll also be able to get help with writing your resume and receive pre-interview coaching.
Programs
It's all about what you learn. We ask employers and industry experts for their insight about what today's students need to be learning to be ready for tomorrow. The result is training programs with up-to-date job skills that help prepare you for a new career.
Ultimate Medical Academy provides a variety of diploma and associate degree training programs online. With UMA, students can pursue a rewarding career in these areas:
Pharmacy Technician
Healthcare Management
Medical Billing and Coding
Health and Human Services
Health Information Technology
Medical Administrative Assistant
Healthcare Technology & Systems
Medical Office and Billing Specialist
Let's Talk
As a nationally accredited school, we provide quality career training online and at our two campuses in the Tampa Bay area of Florida. Let's talk about your needs, your career goals and how UMA can help you succeed.
Programs Available at Ultimate Medical Academy:
Medical Administrative Assistant Diploma - Diploma


Ultimate Medical Academy's online Medical Administrative Assistant diploma program prepares you to support the daily operations of a busy healthcare facility. Medical environments are fast-paced, and medical administrative assistants play a key role in keeping healthcare offices and processes running smoothly by updating medical records, processing critical claims and many other office-related functions.

If working in an office environment and interacting with office personnel and patients sound like something you might enjoy, a career as a medical administrative assistant could be a great match for you. Medical administrative professionals are organized, detail-oriented and provide quality customer service.

As a graduate of UMA's program, you may consider entry-level positions as a medical secretary, medical office specialists, receptionist, medical office assistant or various positions in hospitals, doctors' offices, outpatient clinics or other types of healthcare organizations.

Program Highlights

At 36 semester credits, this diploma program can be completed in approximately 41 weeks. Online courses are five weeks in length, allowing you to graduate quickly with full-time study. Instructors, tutors, financial aid staff and your learner services advisor helps to keep you engaged and motivated. UMA takes pride in offering students comprehensive job skills training. We guide you in preparing your resume, practicing interview techniques, finding job openings and boosting your self-confidence. Even after graduation, we continue to support our alumni.

About

UMA

's Courses

Our curriculum covers a wide range of subjects including medical administrative assisting, principles of management, information systems, medical law and ethics, accounting, medical practice management systems, medical terminology and transcription, medical coding and anatomy.

UMA's curriculum also helps you prepare for the Certified Medical Administrative Assistant (CMAA) certification exam with the National Healthcareer Association (NHA).

We encourage you to apply to UMA and get started in a career in medical administrative assisting today. Complete the form to learn more about tuition, course start dates and the support we provide you as a UMA student.




Ultimate Medical Academy
Ultimate Medical Academy Online


Online learning offers convenience that you won't find in traditional education. Our flexible web-based courses are designed to fit seamlessly into busy lives. You'll use an advanced platform to interact with other students and experienced instructors in a friendly and supportive learning environment.
UMA is accredited by the Accrediting Council for Independent Colleges and Schools (ACICS).
For more information about our graduation rates, the median debt of students who completed the program & other important details, click here.